[
日本語
]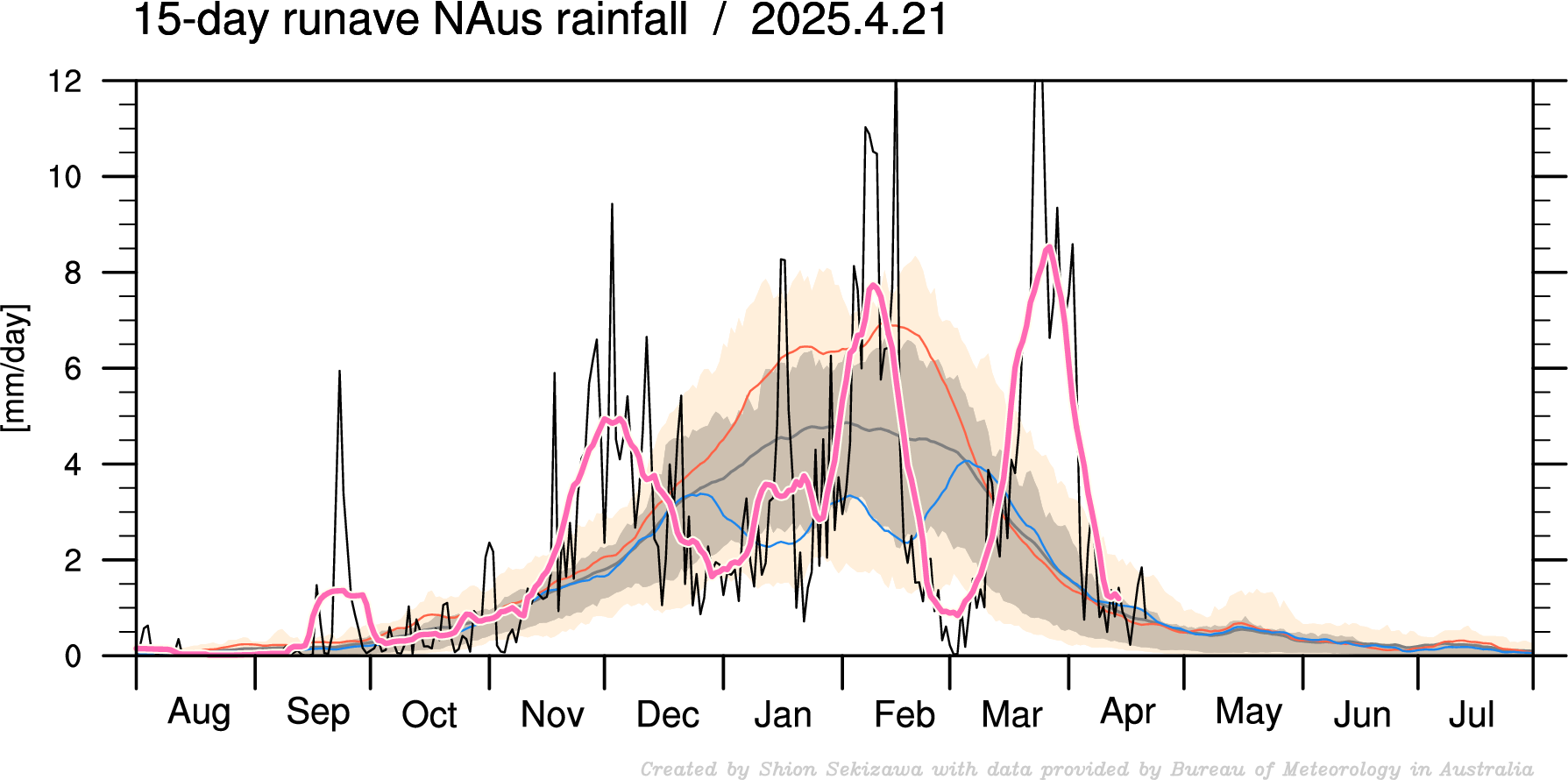 ---
About the Australian monsoon
Seasonal evolution of the northern Australian rainfall shows distinct rainy season (November to April) and dry season (May to October). In the core of rainy season, easterly trade winds are replaced by westerly monsoonal winds, which bring a large amount of rainfall, about half of the annual rainfall. The summertime westerly winds, or the period or phenomenon in which they prevail, is referred to as the Australian (summer) monsoon. The Australian monsoon typically starts in late December and lasts through the beginning of March (e.g., Suppiah 1992; Drosdowsky 1996; Kajikawa et al. 2010).
The interannual variability of the Australian monsoon is not only important for agriculture and livestock industry in tropical Australia, but also has cross-equatorial influences on the East Asian wintertime climate. Sekizawa et al. (2021) revealed that the stronger (weaker) Australian monsoon intensifies (suppresses) the East Asian winter monsoon, while it decreases (increases) the Okhotsk sea-ice concentration. Australian monsoon activity is partially correlated with La Niña, but internal variability locally confined within the monsoon system dominates (Sekizawa et al. 2018; 2023).
On intraseasonal time scales, northern Australian rainfall exhibits large variability. Indeed, the summer monsoon season often consists of multiple active monsoon periods (monsoon burst events) and monsoon breaks in between, associated with midlatitude atmospheric disturbances in the Southern Hemisphere (Berry & Reeder 2016; Narsey et al. 2017) and the Madden-Julian Oscillation (MJO) in the tropics (Hendon & Liebmann 1990; Wheeler et al. 2009).
References
Archives (links to png files)
---
<< TOP