In-situ observations of air-sea interactions in the Kuroshio and Oyashio extentions
A02-6. In-situ observations of air-sea interactions in the Kuroshio and Oyashio extentions
PI
Yoshimi KAWAI* (Team leader, JAMSTEC)
Members
Toshio SUGA* (Prof., Tohoku Univ.), Youich TANIMOTO* (Assoc. Prof., Hokkaido Univ.), Shin-ichi ITO* (Group leader, Tohoku National Fisheries Research Institute), Eitarou OKA* (Assoc. Prof., Univ. Tokyo), Kazuyuki UEHARA* (Assoc. Prof., Tokai Univ.), Fumiaki KOBASHI* (Assoc. Prof., Tokyo Univ. Marine Science and Technology)
Adjunct members
Akira NAGANO* (Researcher, JAMSTEC), Taiyo KOBAYASHI* (Seniour Research, JAMSTEC), Takeshi ENOMOTO# (Assoc. Prof., Kyoto Univ.), Hiroshi KURODA* (Researcher, Hokkaido National Fisheries Research Institute), Hiroyuki TOMITA* (Researcher, Nagoya Univ.), Yoshihiro TACHIBANA# (Prof., Mie Univ.)
PD
Vincent Faure * (JAMSTEC)
JAMSTEC: Japan Agency for Marine-Earth Science and Technology
[Doctral degree: *Oceanography, #Meteorology]
This group observes spatiotemporal atmospheric and oceanic variations on small and/or short-time scales, which cannot be detected from satellites, by using research vessels and moored buoys in the Kuroshio Oyashio Extention region. The obtained data are utilized to clarify the mechanisms of air-sea interaction, and to evaluate numerical models. The impact of atmospheric disturbance passage will be especially important in the cold season because heat and water exchanges between the atmosphere and ocean are quite enhanced. A02-6 group is the core of in situ observations in this project, and we cooperate with other groups to make the maximum use of in situ data, which complement satellite observations and numerical models.
(i) Currently, the KEO and JKEO buoy moored at the south and north of the Kuroshio Extension have been measuring atmospheric and oceanic states near the sea surface. We enrich observations of air-sea interactions near the Kuroshio Extension region by adding a new moored buoy which can do one-year observations in the Kuroshio Extension, with assistance of JAMSTEC. From these observations, we quantitatively examine the responses of both of the atmosphere and ocean to the passage of atmospheric disturbances, and also clarify averaged atmospheric fields corresponding to the sea surface temperature gradients. Our goal is therefore to elucidate short-term air-sea interaction processes from daily to intraseasonal variations. We in addition investigate interactions between scales of short and long term variation, by combining analyses of historical oceanic observational data with experiments of numerical models. [KAWAI, ITO, UEHARA, NAGANO, in collaboration with main programs A01-2, A03-7 and supplementary programs]
(ii) We conduct intensive observations using research vessels, Argo floats and sea surface moored buoys. These observations are utilized for the investigation on ocean circulations and eddy activities, processes of water mass formation and transformation in the upper ocean, and impacts on distributions of nutrients and dissolved gasses related to primary production due to changes in the ocean surface mixed layer. We also clarify atmospheric boundary layers including clouds and vertical structures of free atmosphere, from atmospheric observations such as GPS radiosondes, ceilometers and radiometers on the research vessels. [All members of A02-6, in collaboration with all groups]
(iii) We aim to clarify the characteristics of spatiotemporal variations of the ocean surface mixed layer depth which is determined heat contents of the upper ocean in the region that temperature variations are controlled by atmospheric heat forcing, except for the Kuroshio-Oyashio Extension Region. [SUGA, OKA, KOBAYASHI, in collaboration with main program A02-5]
Western North Pacfic Integrated Physical-Biogeochemical Ocean Observation Experiment
http://floatcl.yes.jamstec.go.jp/jkeo_inbox_www/index.html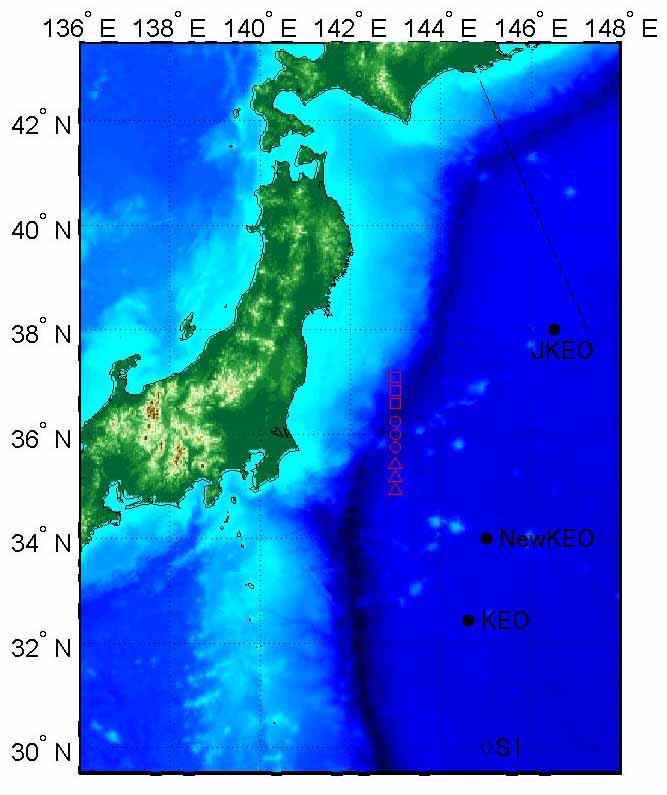 Moored buoy positions (JKEO, KEO, and NewKEO), A-line (broken line), and observation points in the 2012 Summer Intensive Observation.
---