Observational study of ocean wave influence on marine wind gust
A02-K6. Observational study of ocean wave influence on marine wind gust
PI
Takuji WASEDA%(Associate Professor, The University of Tokyo)
[Doctral degree: %Ph.D.]
Background:
Analysis of winter wind record from JKEO K-TRITON buoy revealed that the histogram of gust factor (ratio of maximum wind speed (3 s) to 10-minute mean wind speed) depends on wind direction in the North-West Pacific. When the wind is from the North West, the distribution deviates from the typical Gumbel distribution (Fig. 1). We conjecture that this is caused by the enhancement of convective cells due to the large temperature difference of sea surface and air when the cold air outbreaks in winter (from the Tsugaru Strait to Tohoku area). In general, the gust factor depends on the sensible heat flux (Fig. 2). During the winter cold air outbreak, the sensible heat flux was large. On the other hand, the wave parameters seem to have weak correlation with the gust factor. Therefore, we speculate that the gust factor may correlate better with the wave parameters in seasons when the sensible heat flux is small.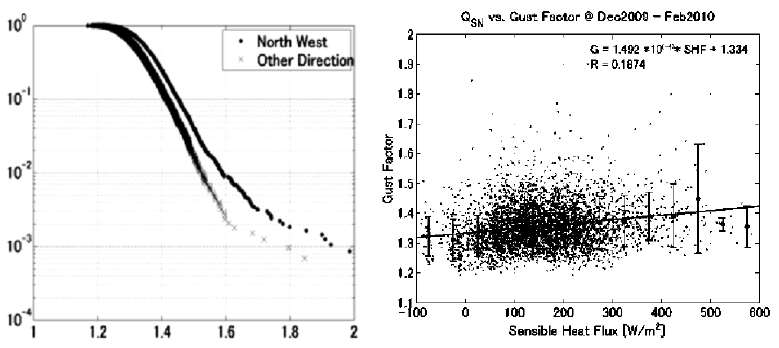 Fig. 1: Cumulative probability density of gust factor (Nishida & Waseda 2012 Meteorological Society of Japan spring meeting)
Fig. 2: Gust factor plotted against sensible heat flux (Nishida & Waseda 2013 Meteorological Society of Japan fall meeting)
Objective:
To understand seasonality of the marine gust factor and the relationship of the gust factor and the waves in the North West Pacific, the wave and wind data from the JKEO and NKEO (2012.6~ and planned in 2014) buoy will be analyzed. In our previous research, a correlation was found between gust factor and wave parameters but the causes and effects are not evident. It is possible that the increase of both gust factor and the change of the wave state are coincidentally controlled by the same meteorological event such as frontal passage. Therefore, we will investigate the relationship between wave parameters and gust factor.
Research Plan:
The new GPS wave observation at JAMSTEC Kuroshio Extension Observatory (JKEO 38.1N, 146.4E) is planned during the FY2014. In the first year, an atmospheric simulation will be conducted for period including the time when the JKEO and NKEO wave and wind observation data were obtained. In addition, wave model run forced by the simulated wind is planned. Of particular interest is to correlate atmospheric turbulence intensity and wave parameters. To investigate further a possible feedback mechanism from wave to atmosphere, an atmospheric simulation incorporating the wave parameters in the sea surface boundary condition is planned in the following year.
---